I'm feeling a little disheartened this week, i'll be quite glad to reach the end and start the weekend afresh. I started the week watching the riots in London which then moved up to my city of Birmingham. I've felt sad, angry confused and angry again. We haven't been able to leave the house any evening so far and the city centre was in lock down last night meaning it was a struggle for us to even get home. The city has been ransacked and local businesses will have an uphill battle to return to their daily routine.
My younger sister is a police officer and now has the job of tracking down and arresting the idiots who have been rioting and petrol bombing the police stations in her city of Nottingham. It really hasn't seemed quite real this week.
Our anniversary dinner was cancelled as every business is shutting their doors early which was a shame but we'll get to do it another day.
Yesterday was a really sad day at the funeral for one of my best friends mums. It puts everything into perspective really.
I don't often get too personal on my blog but it feels good to put it down in writing and will move onwards and upwards with some fun plans this weekend with friends - lets hope the city is back on its feet and open!
Moving on, here's a little collage I have put together - I noticed green is becoming more and more popular at the minute, moving away from the minty pastels and turquoises to fresh grass and apple greens. I really like it and I think it looks great on blondes, brunettes and red heds! What do you think?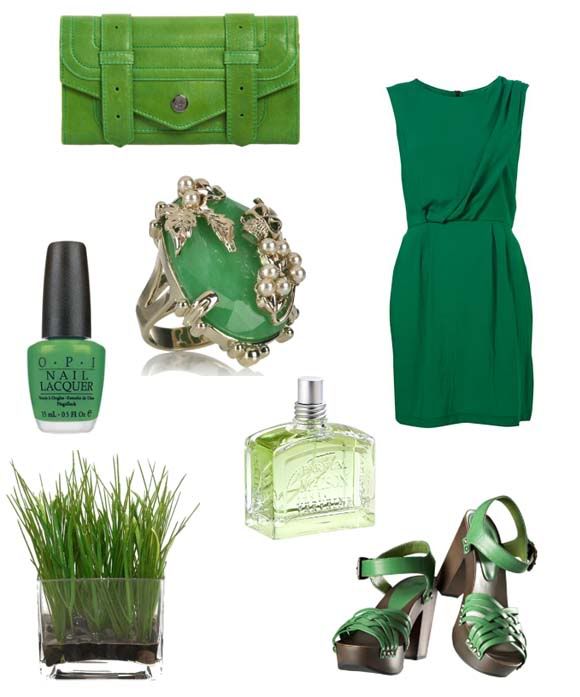 Wallet - Proenzer Schouler
Nail polish - OPI in Green-wich
Home fragrance - L'Occitane Verbana