Before we left the UK and we mentioned we were travelling to Hawaii a few people asked where we were going, when we said the North Shore and Waikiki they almost gave a sigh of relief and said they were glad as we get to experience the 'real Hawaii' up North, a few people screwed their noses up at the mention of Waikiki so I really wasn't thinking about what to expect when we got there, I just wanted to enjoy our last five days on the island.
Well thanks to them my expectations were very low and completely blasted away within one day, I absolutely loved it! City beaches always appeal to me, I love being able to spend a morning hitting the shops and diving in to the sea come the afternoon all within walking distance of each other. The beach at Waikiki is narrow which is the worst thing I can say about it, it stretches along in a curve not disimilar to the likes of Rio (my favourite) for a good stretch, the water is clean, the break not too rough, just enough to have fun, kids can play safely and you can swim. Head a little further out into the sea and you can surf from the same beach.
The city I was expecting to be a little rough around the edges and how wrong could I be, it is super clean, immaculately presented, a shoppers paradise and i'm talking serious shopping here - it beat Vegas hands down. Chanel and Hermes were two a penny, I counted three of each at least. The gorgeous designer shops sit alongside the surf shops, the high street Victoria Secrets and Sephoras as well as a fantastic outdoor mall housing pretty much every shop you could want. We ended up at the Mall till midnight one night, long after the shops had shut in a packed bar dancing the night away to some hawaiian music legends apparently. You can't do that here in the uk!
Restaurants were good, the portions way too huge but prices reasonable. The buses which we caught were frequent and something we all noticed after about a day we actually felt like tourists outnumbered by Japanese by about 20-1 which is a nice feeling. We got asked if we were Austrailian all the time, and then got the special treatment as we'd travelled so far to reach Hawaii - we liked that!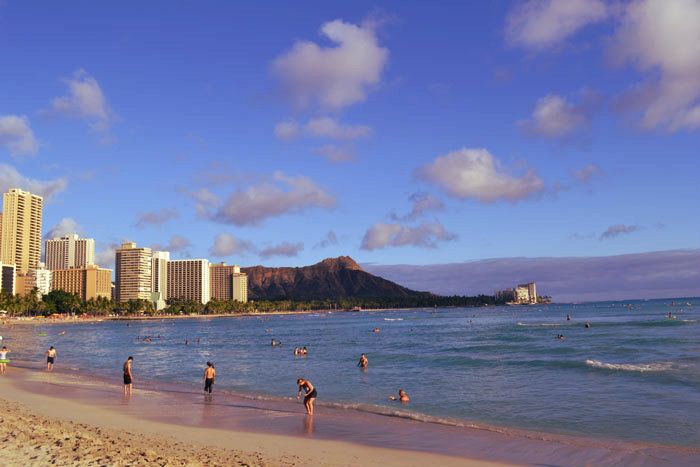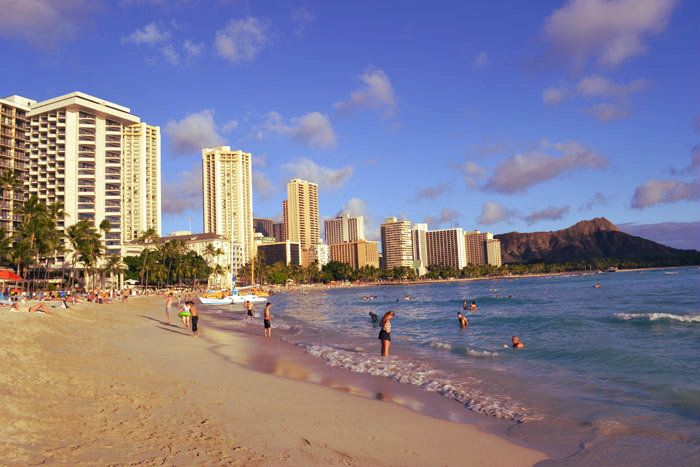 Hanauma Bay took us just outside of Waikiki for a morning via the bus to the otherside of Diamond head where a Volcano crater has created a coral reef. You pay an entry fee and have to watch a video before entering the park and walking down to the beach. All the dark areas in the sea you can see on the photos are coral and you can imagine all of the types of fish you can see as well as turtles.
Caroline and I bought snorkel and masks and floated around for a bit with the fish, a huge ugly fish almost came nose to nose with me which made me jump out of my skin but generally the fish were pretty and smaller! I hated the way some tourists ignored all the advice from the video and smacked their flippered feet down on the coral to stand up and I guess it will eventually take it's toll which is sad. I recommend a morning or afternoon out there though.
You can see from the photos below we rented some boards - Caroline and I were pretty shocked when Matt and Martyn came back with 11FT BOARDS - seriously they were twice the size of us and we needed assistance lifting them into the sea!! Yes, long boards are easier to learn on but they were so heavy, it actually made me a little apprehensive as I didn't want this giant board clattering me on the head when I wiped out. Still good fun was had by all even if the boys did fare better using the longboards!