Here it is! This is the regional special of Grazia magazine for the Midlands, I have been working on as a Local Ambassador as mentioned in yesterday's post and it's finally out today.
This issue has a selection of Local Abassadors from Birmingham & Warwick, Nottingham, Loughborough & Leicester and local readers sharing their top 10 highlights and places not to miss in their areas.
If you are in the region you can pick up the issue for a special price of just £1 and they have a host of special discounts for readers.
You'll find discounts in:
Birmingham & Warwick - The Vintage Salon, The Jeykll and Hyde pub, and The Spa in Leamington and Present Days in Warwick.
Nottingham: Delilah Deli, Cow, Zullo & Holland, Hopkinson Vintage and Nottingham Contemporary.
Leicester and Loughborough: Maiyango, Pink Pigeon Vintage, Delice Deli and Cafe, Guilty Pleasures Chocolate Academy and The Exchange.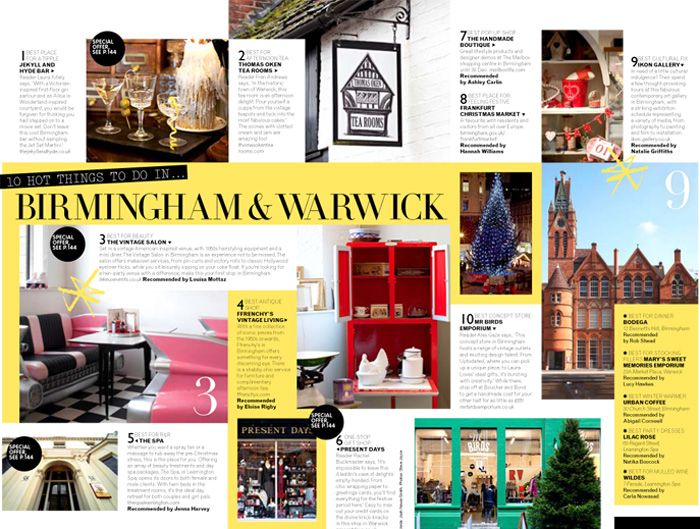 Along with all the great finds in each city there is my Girl about Town column with some of my favourite things to do in Birmingham.
It's so strange seeing myself in a magazine! I'm wearing top - Urban Outfitters, Trousers - H&M, Boots - Topshop, watch - Michael Kors and bag - Alexander Wang.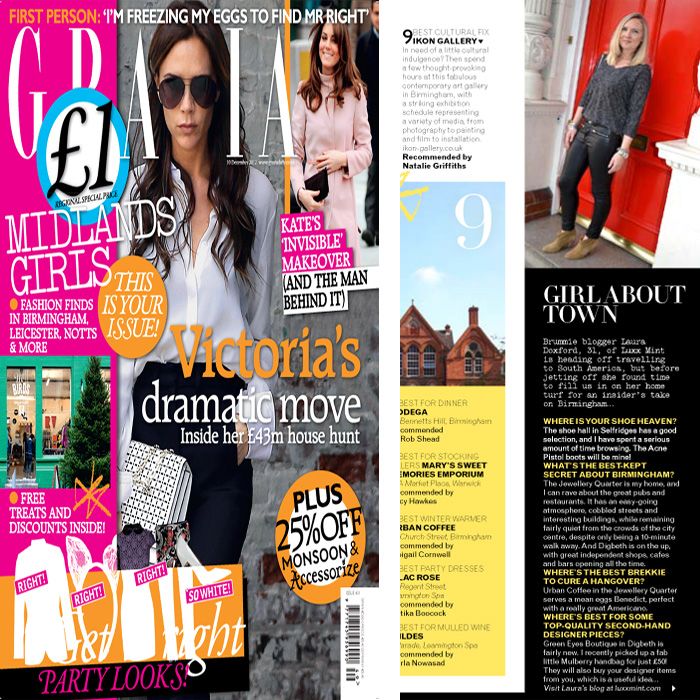 Let me know if you pick up a copy and if you take advantage of any of the discounts, and look out for regional specials in your area if your not a Midlander.
As well I had the pleasure of writing a blog post on the Grazia Daily website with my perfect weekend spent in Birmingham. You can check out what I do here!
http://www.graziadaily.co.uk/fashion/community/grazia-local--birmingham-blogger-laura-of-luxx-mint-shares-her-citys-best-bits
Right i'm off to buy a handful of copies - my grandparents are going to want a read!!!