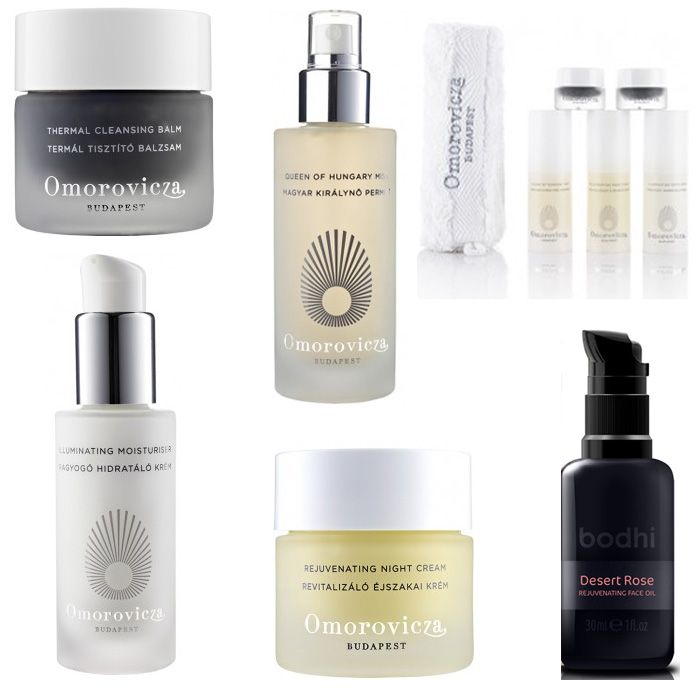 I'm talking about a long overdue subject on the blog today. On this outfit post I mentioned how pleased I was with my skin at the time and promised to share my secret. I'm happy to say I'm still over the moon with my routine.
I'm very faithful to my skincare, I have only used three brands in the last 6 plus years I think. Clarins, Chanel, more recently NUXE. However I wanted a change and have been researching, umming and ahhing over many brands new to me.
My skin type is de-hydrated with a few combination patches on my nose and forehead. I find it so difficult to find a brand that works for me, so many are for dry skin which isn't really an issue for me. I knew I needed something new and fast when I suddenly developed a horrible itchy patch of excema in and above one of my eyebrows. This was definitely a dry patch, red and sore.
After a nearly opting for Creme De La Mer I was pointed in the direction of 

Omorovicza

. A brand originating in Hungary with products packed full of thermal goodness and no nasties.
I was originally only going to purchase one or two products but spotted the Essential kit which includes, two cleansers, toner, day cream, night cream, a super soft cotton cleansing cloth and two mini sachets plus it comes packed in a handy clear travel case. Perfect for travel and perfect for a good length trial.
So onto the reviews.....
The Illuminating day moisturiser has a herbal scent is a medium rich cream, smooths in easily and absorbs very quickly. I don't find it quite as hydrating as I'd have liked but have found applying a little of Bodhi's Desert Rose rejuvenating face oil before the moisturiser does the trick. I can apply my make-up after letting it sink in for around one minute and my face is left comfortable through out the day.
The 

Bodhi

 Desert Rose oil was a sample sent to me which I delayed in using as I'm not too keen on the smell, it's a very intense rose scent but the product is undeniably good and works a treat for me before the moisturiser. I think for anyone without my hydration issues it would be a lovely night facial oil as the scent is more suitable and relaxing for the evening. This is also packed full of lovely organicness.
The Rejuvenating night cream is just gorgeous, I can't rave about it enough. It has a sweet almond scent, is rich absorbs well and feel like such a treat, I look forward to putting this on every evening, it feels incredible. This cream does some magic overnight as I wake up with fresher, glowing healthy skin. I would wear it during the day too but that may be spoiling myself a little too much!
The Queen of Hungary mist is the first product I was recommended and bought the Essentials kit because of it. It has a fresh orange blossom scent and also contains rose water and sage. A toner is the one part of my routine I could skip if I wanted too but I don't want to, I love using the mist, it instantly perks me up and has been invaluable in this hot sticky weather we've been having. In the evening after cleansing, I spritz this directly onto my face and simply let it sink in, nothing more. In the mornings I'll spray onto a cotton pad and sweep over my face ( I don't cleanse again in the morning) before a final spritz and let dry on my skin.
The Thermal cleansing balm is the second wonder product from this collection. It has a beautiful scent and is a black balm made from Hungarian moor mud. This is packed with nutrients and other wonder ingredients. I find it has the tiniest amount of texture which I'm sure has been exfoliating my skin a little and I'm thinking that this is the one product that cleared up my eczema patch which hasn't returned. My skin always feel so smooth after cleansing and it removes every scrap of make up including mascara. I like products that simply my life!

 
From reading the reviews of these products I would say they are suitable for most skin types.
I bought the kit from the Omorovicza website (free shipping) and they are now available on many other beauty websites. I must mention the customer service, I had a faulty spray on my toner bottle and not only did they replace the product they sent me they full size version of the mist. Brownie points from me.
The only downside to these products is the price, they're not cheap! I am always searching for a high street hero skincare brand but to no avail. Since buying the kit, I have re-purchased the full size cleanser and two more Essential kits as I prefer the pump bottle dispensers to the glass tub for the night cream. Value wise it works out well and the creams lasted me a good few months used sparingly.

 
Next on my Omorovicza wish list is the much raved about Deep cleansing mask.
Have you tried this brand, what are your thoughts?