The food in Japan is wonderful, such great variety. Below are a few of the meals we
ate over the week.
These are the plastic food models that line most restaurant windows. It definitely makes it a little easier choosing your food for the evening.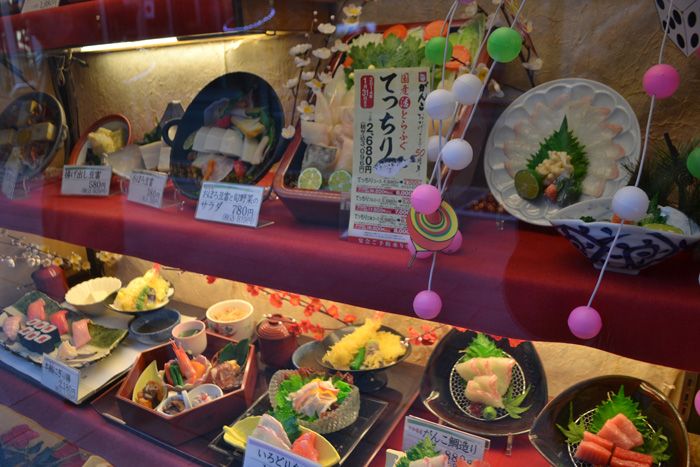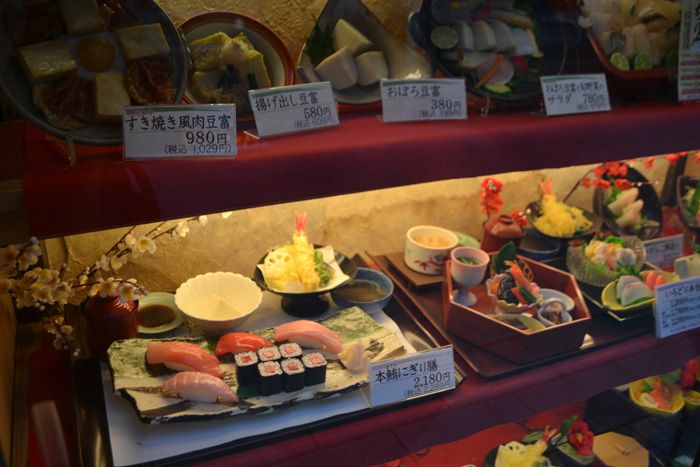 We had a couple of places we wanted to try via recommendations in the guidebook, it's not quite as straight forward as that. Lots of restaurants are below ground level or high up on the 5
th
floor of a building so be prepared to search a bit once you reach your destination. In fact we actually gave up trying to find one or two and went for something we could see on street level.
This restaurant was chosen as we couldn't find a guidebook recommendation. It looked to be a tower of restaurants, so we hopped in the lift and after checking out a couple just dived into this one without having checked out the menu! We were taken into an individual booth/room which had a bamboo roller door so it was totally secluded. We left the door open and the waiter popped in quite often to check we were ok, I don't think he had seen many tourists in his restaurant before!
Once we had chosen a few things from the menu, we pressed a big button on the table and the waiter appeared with some tea and two little dishes for us. He took our order looking a bit bamboozled and headed off. Once he had returned with our food he tried to explain that it was a speciality chicken wing restaurant and that we should order some of those too, we did and chose our spices for them.
The wings were delicious and I liked the instructions for eating the wings three ways but the star of the show was the slow roasted pork. I've never had any pork served as soft and as delicately spiced, I could have wolfed down three or four of these. The crab salad was very fresh and had a lovely dressing which we tasted again and again on our food travels around the city.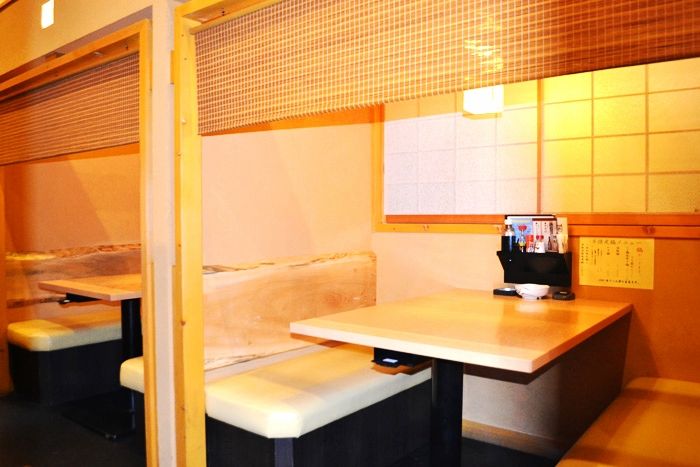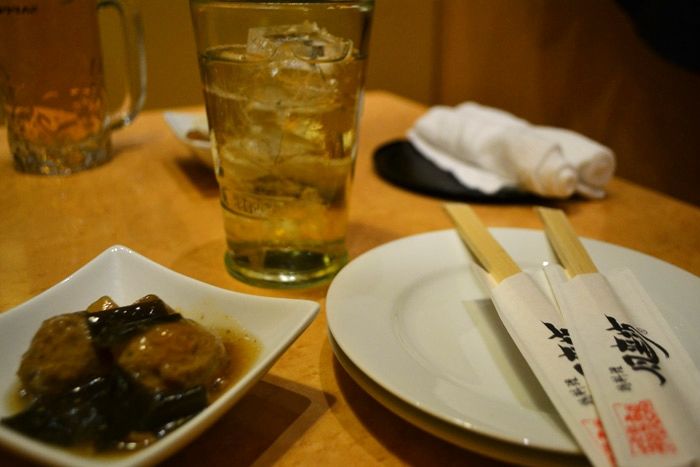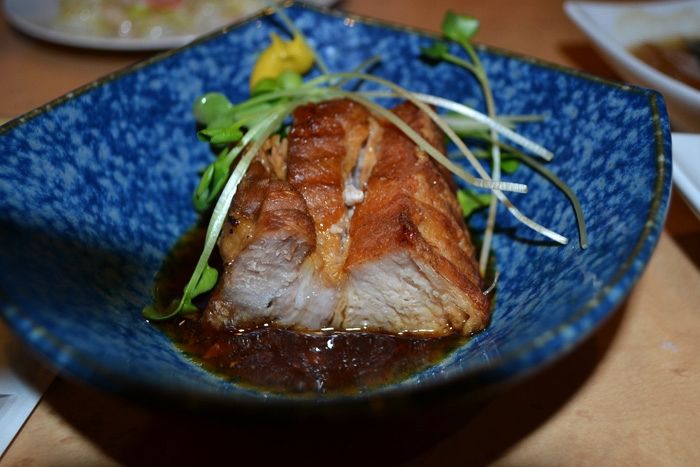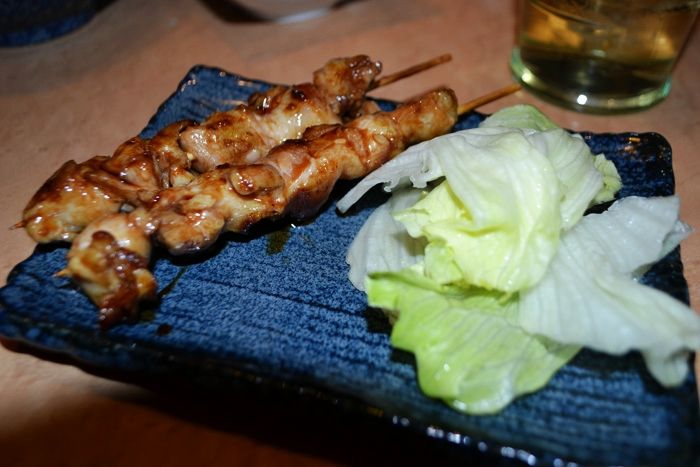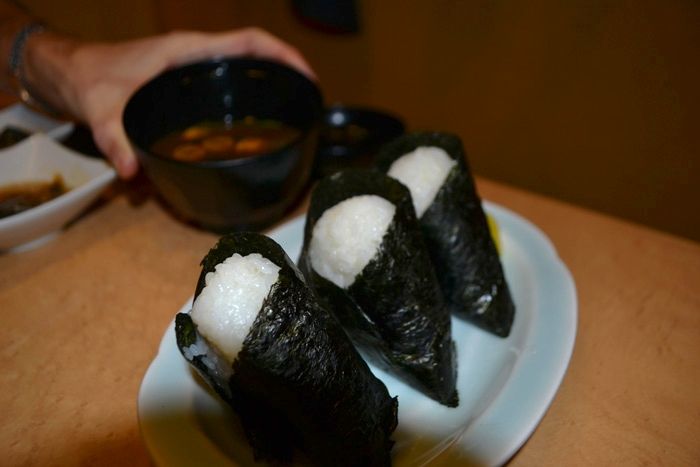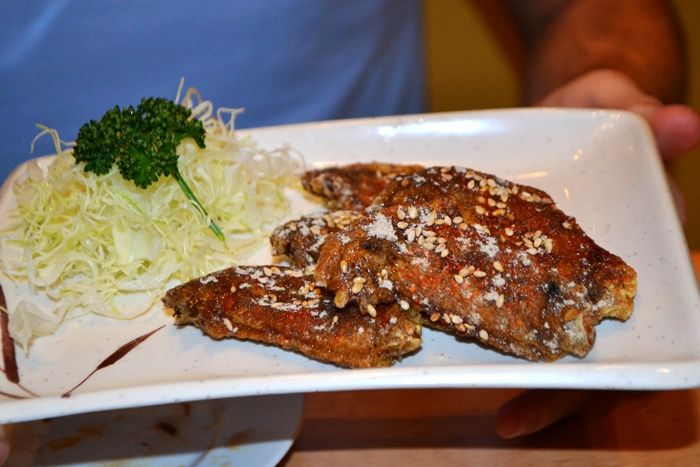 I wish I could tell you what I ate here, I know a few but the rest you'll just have to admire the prettiness. The menu did come in English but the translation of 7 appetisers didn't help me out much!
I know we ate soba noodles in broth, seared duck, sashimi, and the lightest crispiest tempura selection ever. Some of the other dishes didn't really grab me, in fact that yellow shape you can see was made up of tiny hard balls and was very fishy, it wasn't the most pleasant thing I have ever eaten, still I tried! This was actually a good selection of Japanese dishes all in one sitting.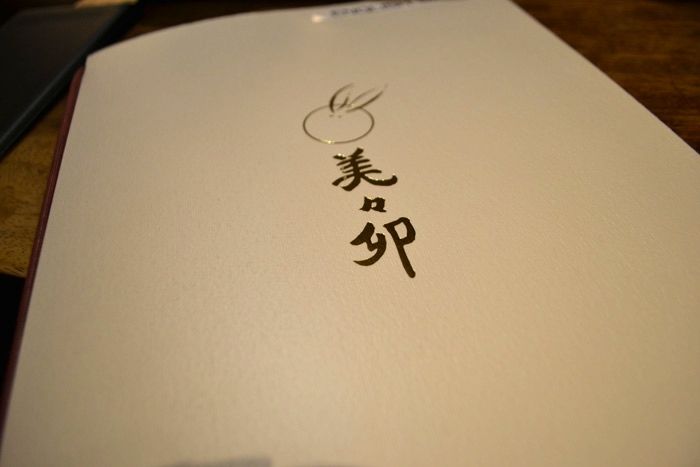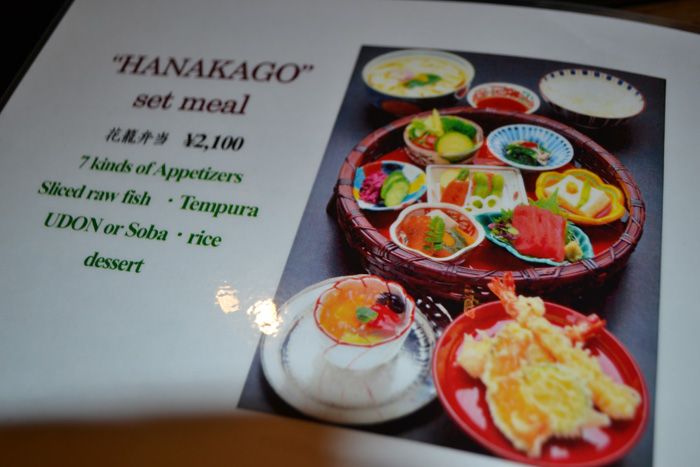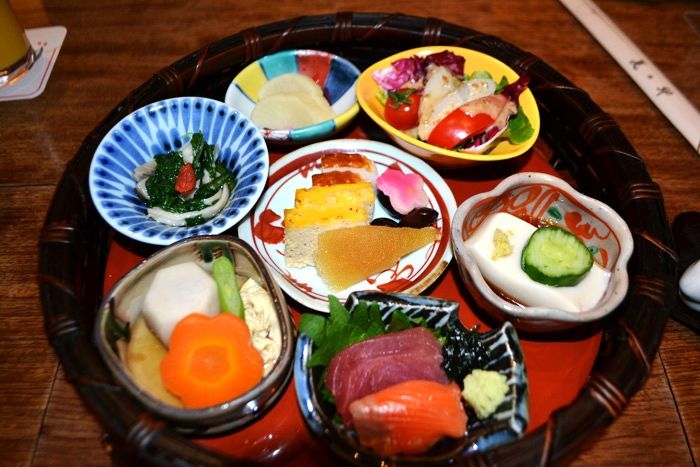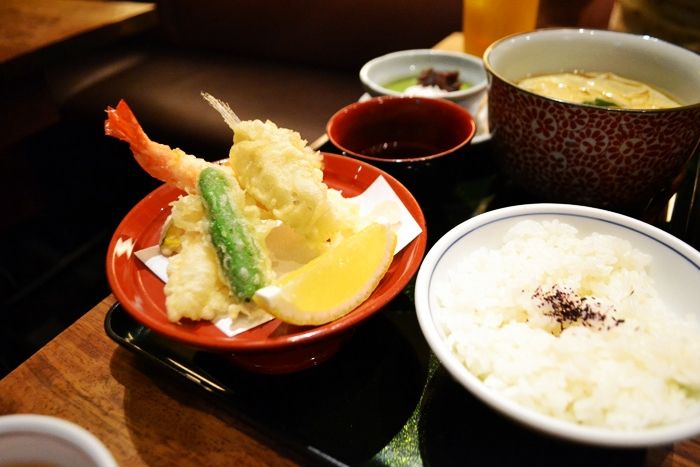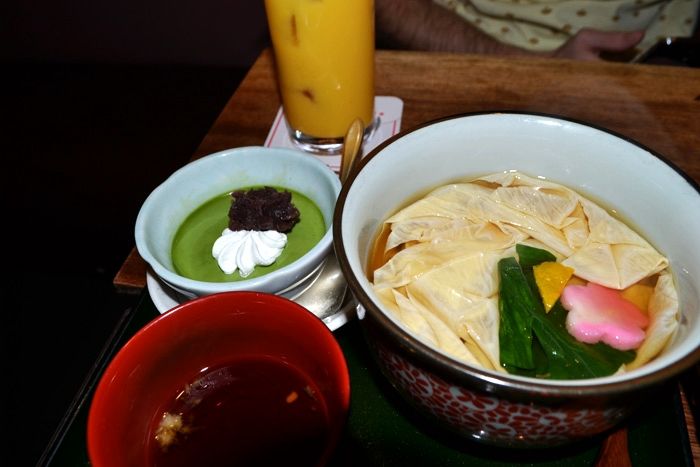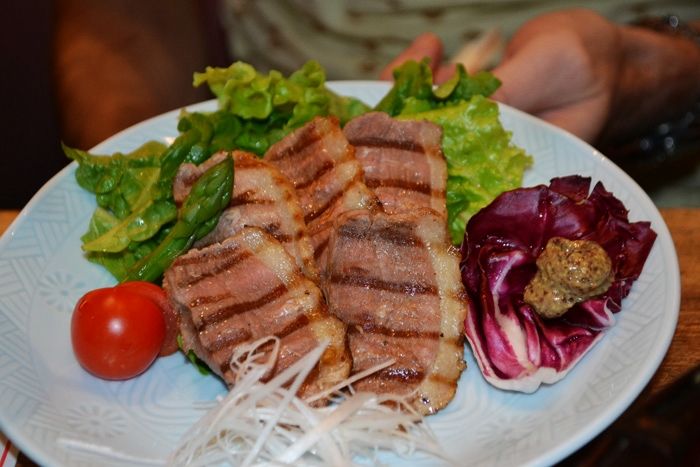 Sushi, maybe the most famous of Japanese cuisine. It's hard to go wrong with sushi in Japan, it's just better. This little restaurant – Heiroku Sushi had a queue outside the door when we had passed it a few days before and I book marked it in my mind. We returned to another queue but not too long, maybe 20 minutes or so. You take your place at the belt, pour yourself a powdered green tea and watch the chefs in front of you making pretty dishes. When you've taken a photo or twenty you can start choosing which plates you want, each different colour has a different value. It was delicious. It's was by no means a fancy restaurant, just great quality.
Matt who wasn't a massive lover of sushi ('it's cold….' His usual gripe with it) got stuck in, plate and bowl after bowl exclaiming how fresh and how tasty everything was, he chose one dish and I didn't dare tell him what it was until it was gone, before I could tell, him he declared it his favourite. The Teriyaki eel…..! I think I may have converted him, fingers crossed. We ate several plates each plus a small salad, two teas, a juice and shared some fresh pineapple to finish. The bill was a grand total of £13 that's for both of us. You really can't go wrong for that.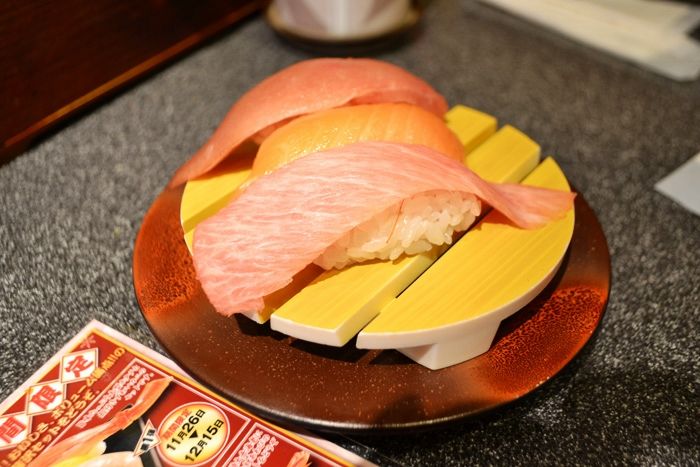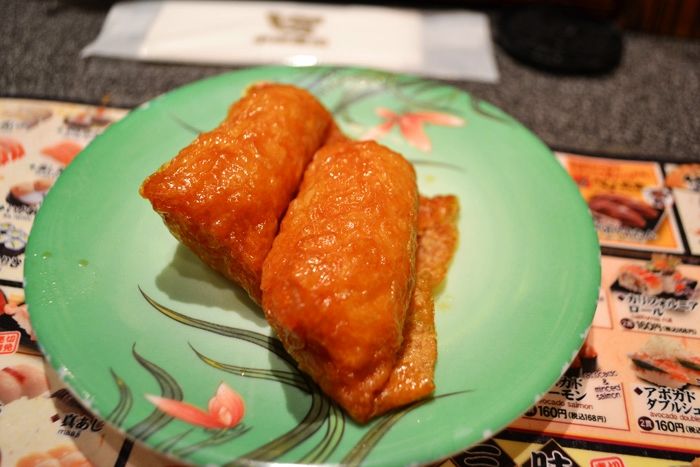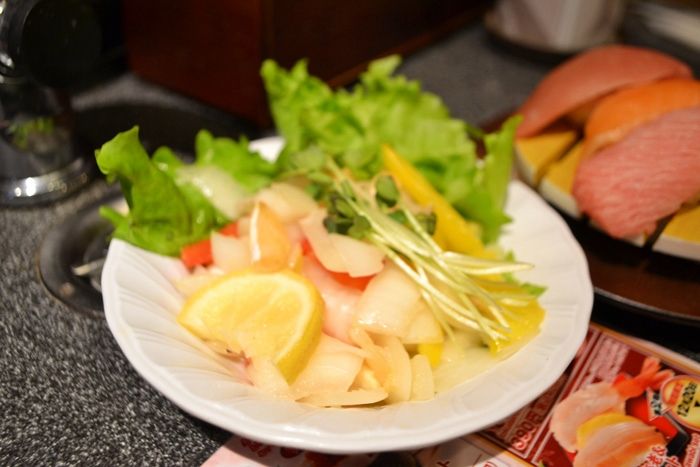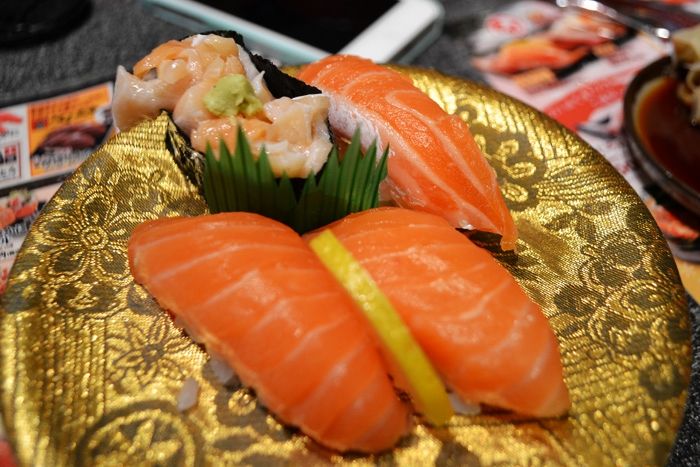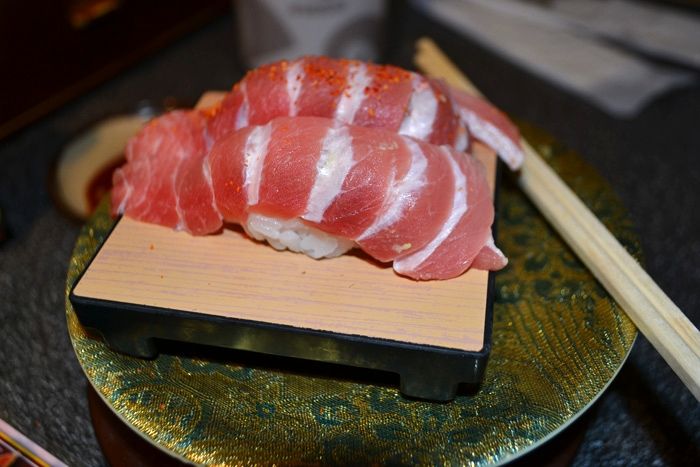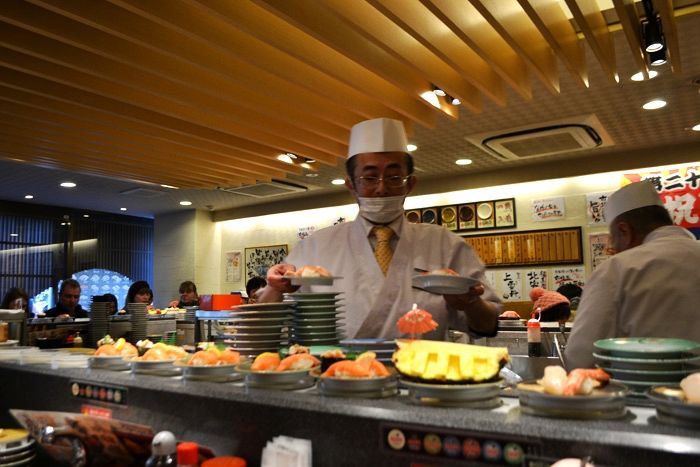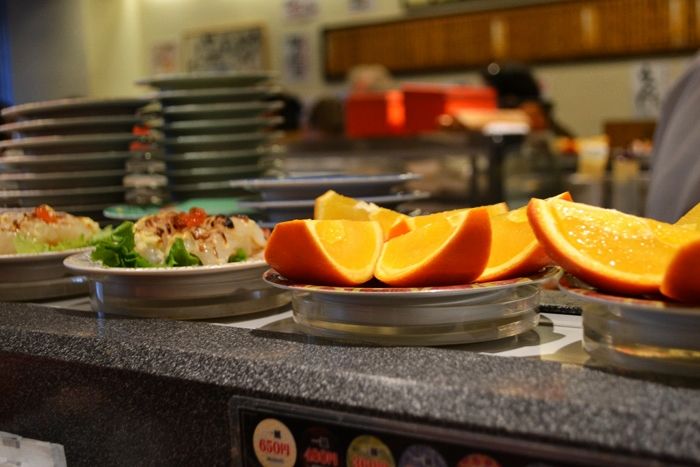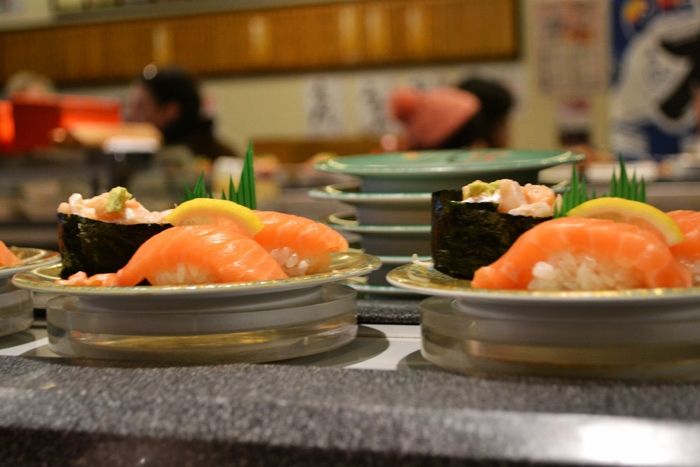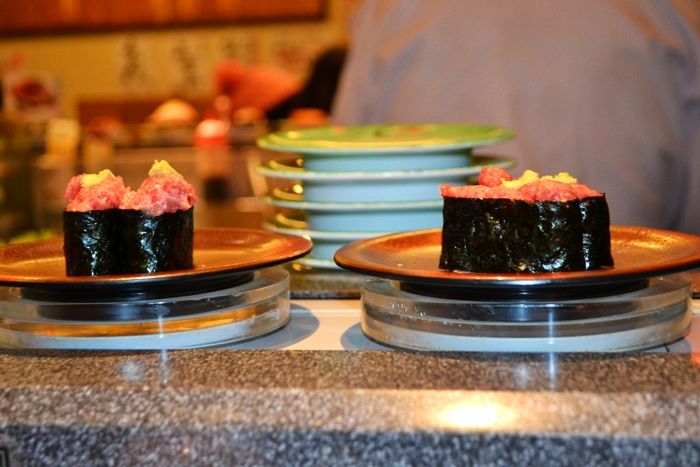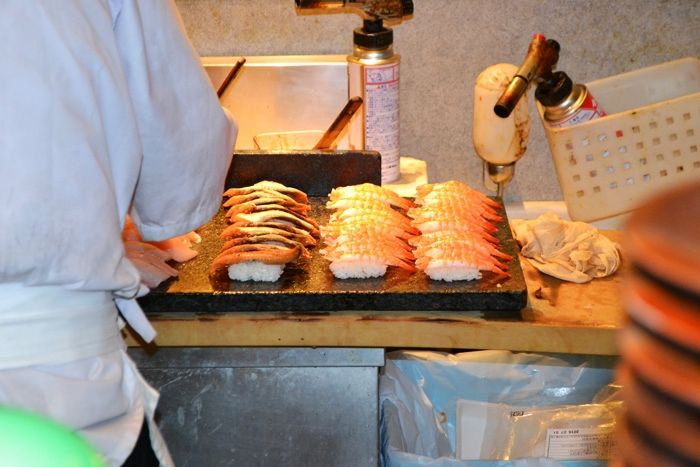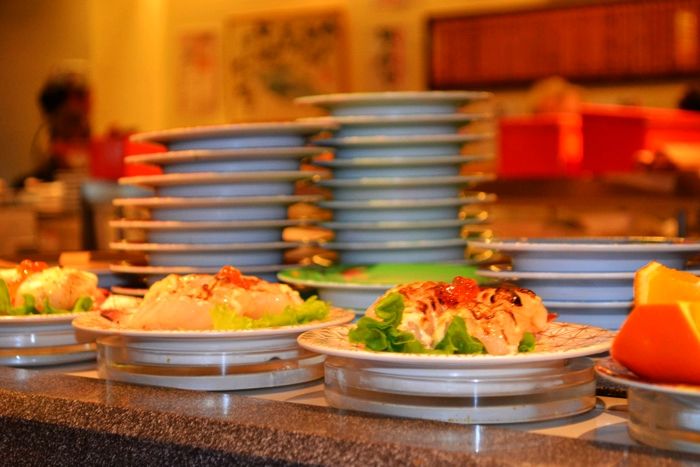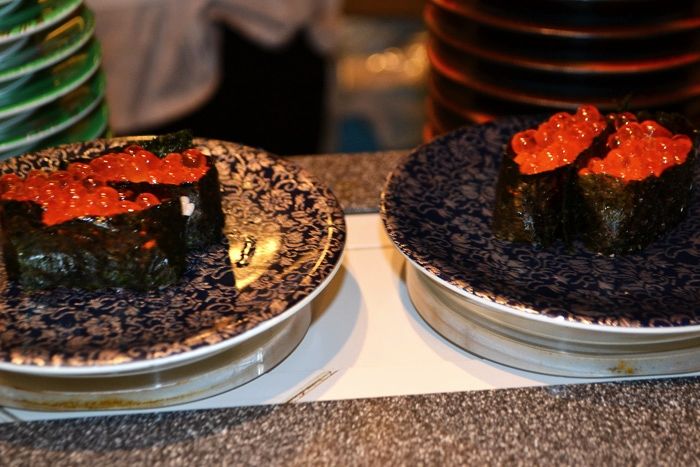 On our final evening we had arranged to celebrate both of our birthdays at a special restaurant in Shinjuku, The New York Bar and Grill at the Park Hyatt Tokyo. I had read about this restaurant and the reviews for the food were matched equally by the setting. Possibly one of the best restaurant views ever, 52 floors up made famous by Scarlet Johansson and Bill Murray in Lost in translation, it has glass floor to ceiling windows 360 degrees.
I didn't take my big camera as we were on date night but took a terrible shot on my phone and borrowed two showing the wow view. If you love a great city view and don't mind paying £££ for your food then you must visit this restaurant. Make sure to book ahead, our hotel happily made the reservation and ask for a window seat (these are for two people only) Alternatively you can go for a drink only and bar snacks, it still has the same amazing view and has live music to accompany your drink. You will still need to book this if you are planning on an evening visit.
I should mention the food, I had the New York strip, Matt had Austrailian rack of lamb and we split brussel sprouts with pancetta and chestnuts and some seriously good garlic duck fat fries. Matt also had a chocolate pudding which was virtually inhaled by him! It was a very fitting end to our amazing week and if I could click my fingers and be back to see that view again I would!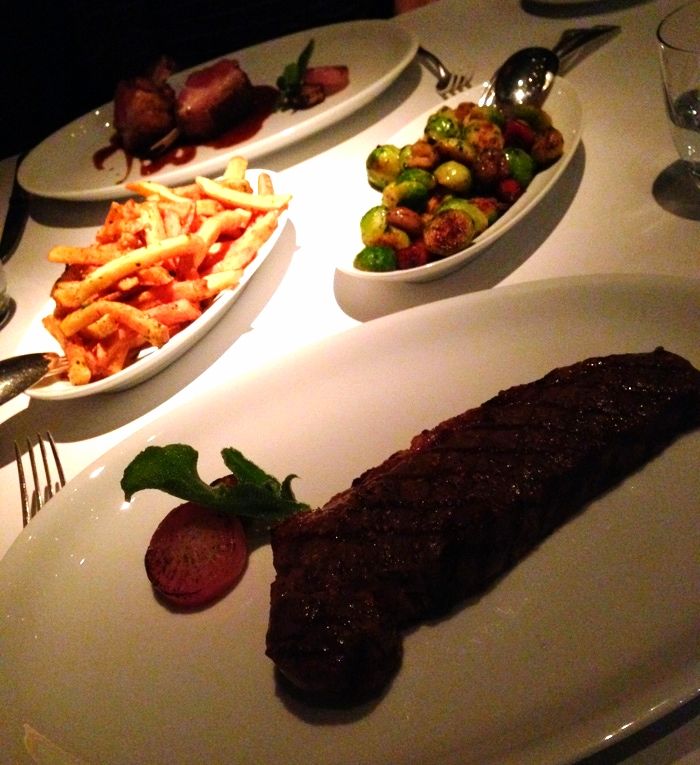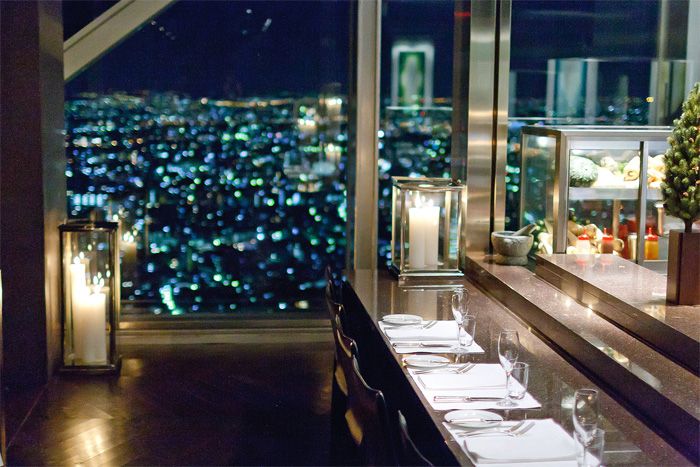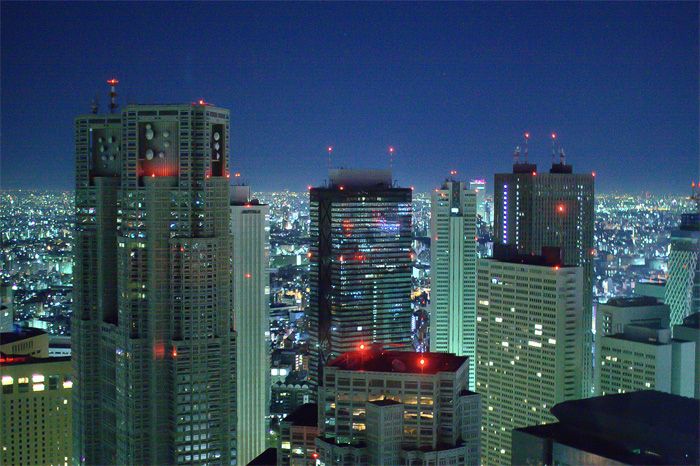 Ramen is everywhere, you'll see tiny little restaurants and cafes dotted all over the place. The place we happened upon had another feature common in Tokyo, you had to order and pay using a vending machine! You choose your meal using pictures or plastic food models (very common everywhere) outside the restaurant, enter your note or coins, pick the various items you want to choose, I had a pork bowl with noodles and some dumplings and Matt chose a bbq pork combo.
The art to eating ramen needed some practice from us, scoop noodles onto your spoon using your chopsticks, twirl the noodles around the chopsticks and using them then place in your mouth (slurping is allowed!) You can use the spoon to drink the broth. More than once did we illicit giggles from the couples sitting around us for splashing ourselves whilst trying to get the flipping noodles in without making too much of a mess. Mission failed!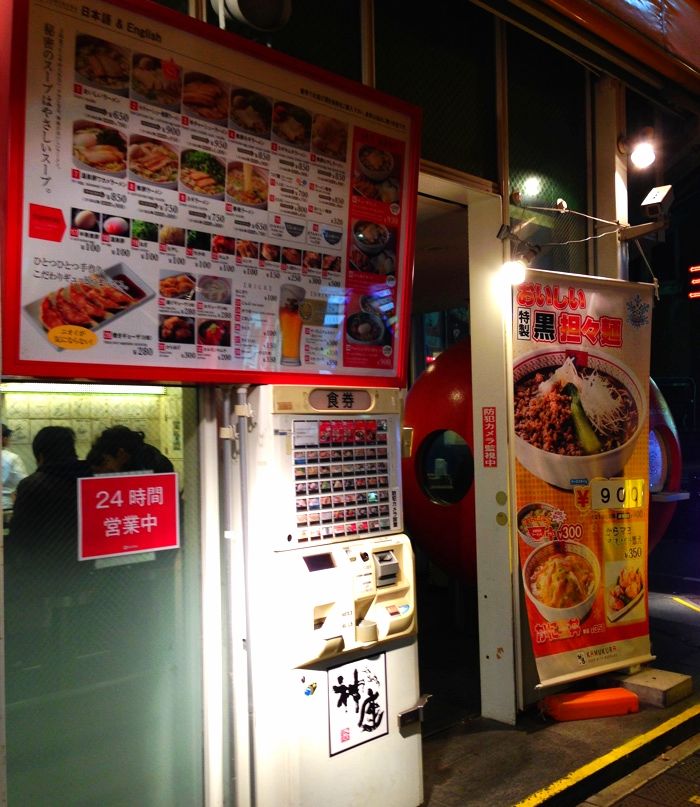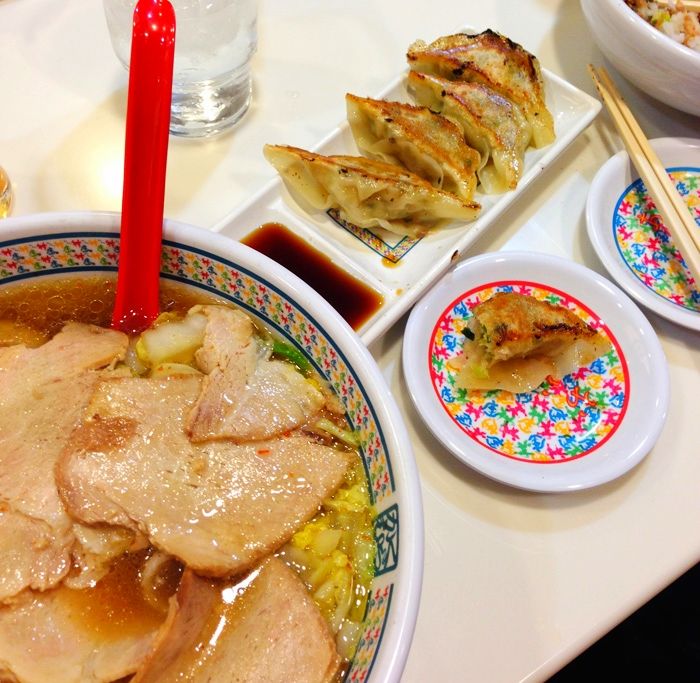 Follow Luxx Mint