Cantonese is one of my favourite foods although it's rare I go out for dinner to eat it, usually ordering in a takeaway.
I was a guest at the re-launch of Henry Wongs in Harborne recently an upscale A La Carte Cantonese restaurant perfect for a special occasion. The dinner was hosted in partnership with Laurent-Perrier Champagne. I thought the pairing of champagne and Cantonese food would be interesting, not normally a combination you may think to associate with each other!
At the reception we had the choice of two champagne cocktails, I chose the Laurent-Perrier NV Brut French 75 cocktails (phew what a mouthful!) with gin and lemon juice. A sharp, juicy glass perfect as an apperitif.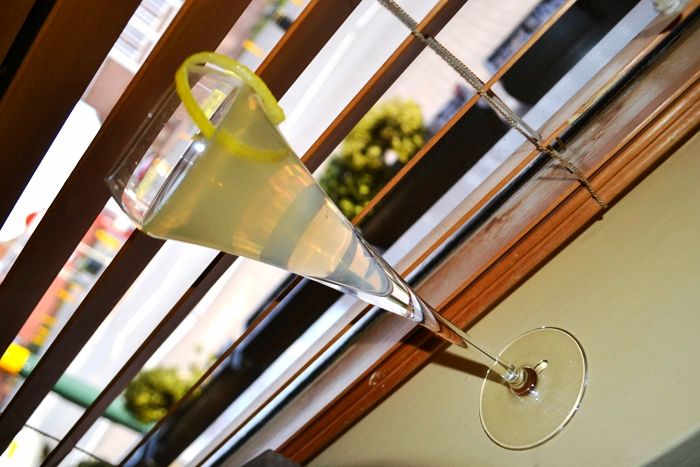 We were then led through to a private dining area just off the main restaurant where we were poured glasses of Laurent-Perrier Ultra Brut, my favourite champagne of the evening, dry crisp and elegant. I would drink this every day if I could.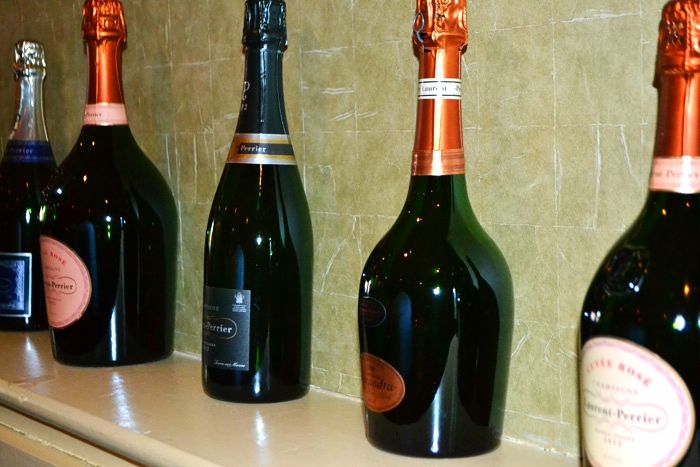 The drinks were matched to the food which started to arrive and we each had a little taster of each dish.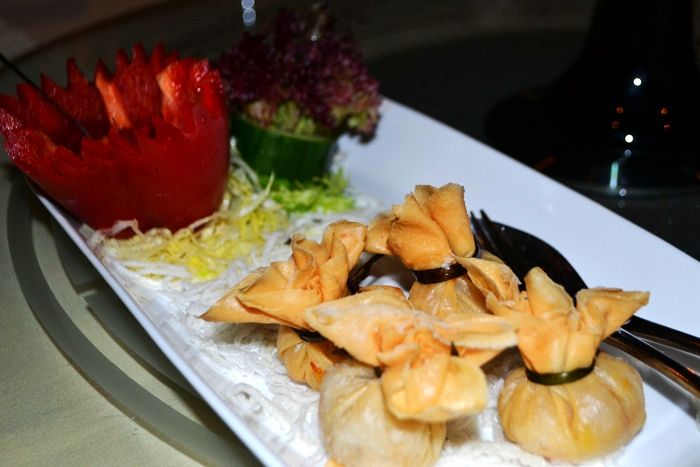 Vegetarian crispy won tons, I detected crunchy water chestnuts in these, one of my favourite chinese vegetables
.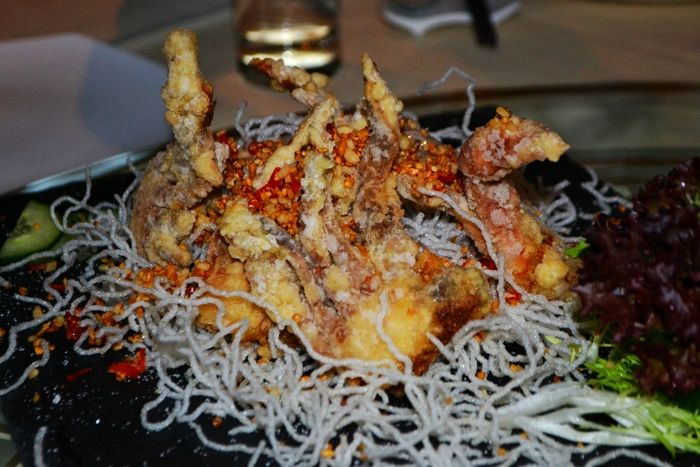 Soft shell crab with chilli and garlic. Absolutely divine. No other words needed. I'll go back for this alone.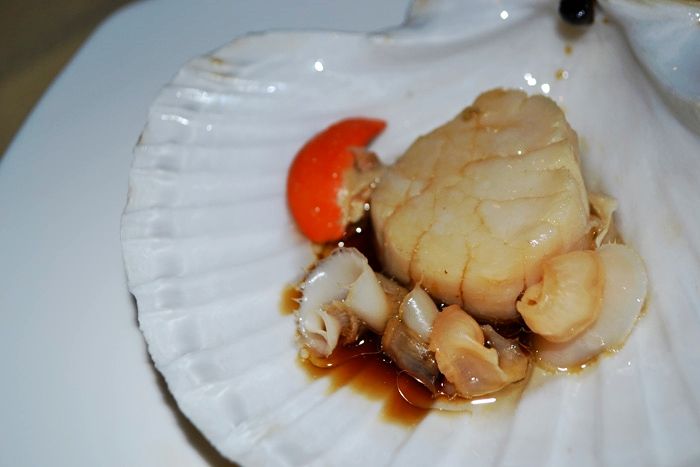 Steamed scallop with spicy soy sauce, ginger and spring onion. The scallop was huge, meaty and soft.
Butterfly king prawn with wasabi dip. The dip was delicious, not too hot but enough to compliment the sweetness of the prawns.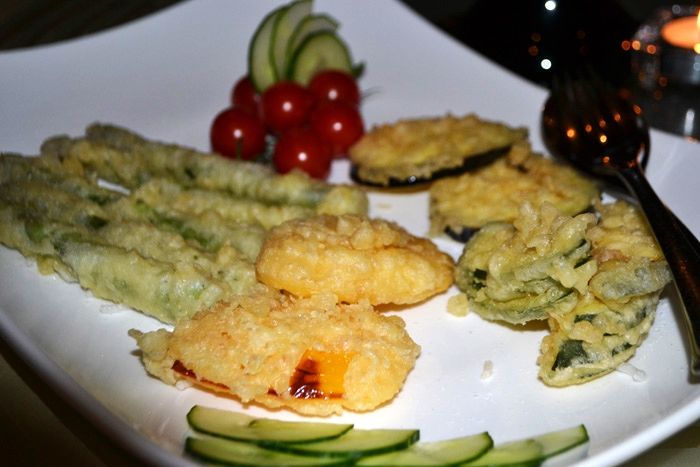 Vegetable tempura, not one of my favourites mainly because i'm such a meat lover, but the asparagus was quite nice.
A mini martini glass filled with eldeflower and pear sorbet to cleanse our pallette.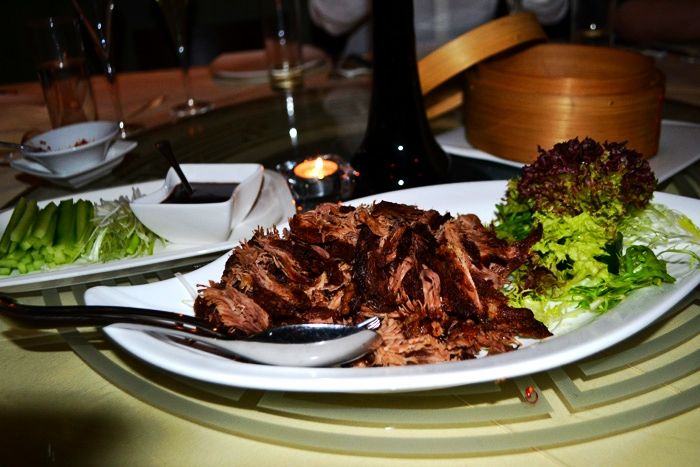 A heaped mountain of aromatic duck with pancakes and the trimmings. I don't know about you but I always look forward to the duck course, I pick the crispiest bits I can find, drizzle on the hoisin sauce and add a little spring onion and cucumber for crunch. I love it so much, this was great, sweet,, spiced juicy and crispy all at the same time.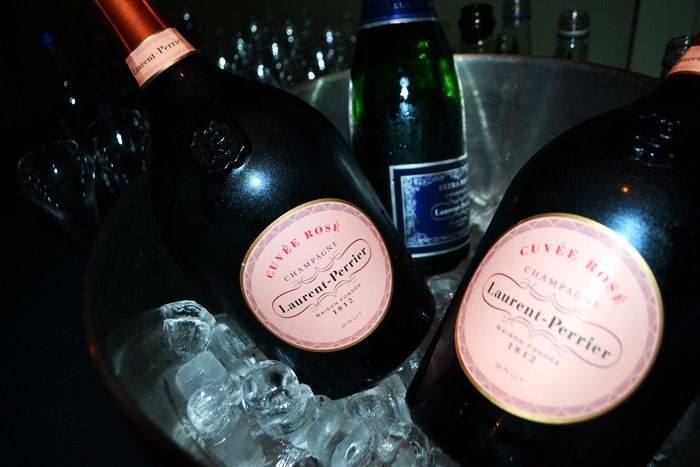 Our champagne host cracked open the magnums for the duck course, Laurent-Perrier Rose to cut through the saltiness of the duck, it was a suprisingly good combination.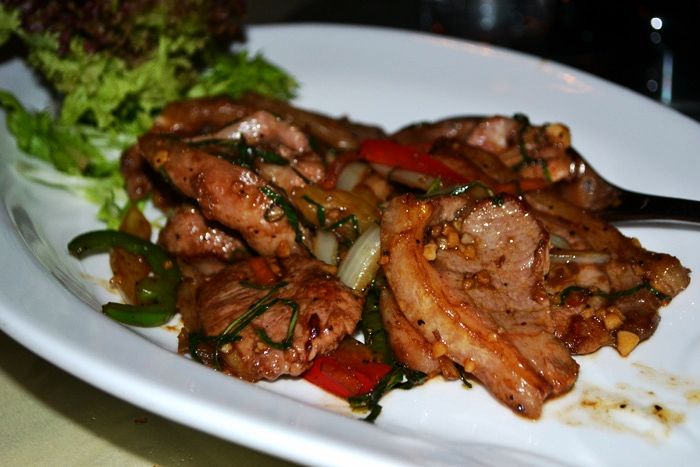 We continued with the Rose champagne whilst moving on to the main dishes, rack of lamb with stir fried herbs. To get lamb so finely sliced whilst still remaining pink and juicy takes really good cooking skills.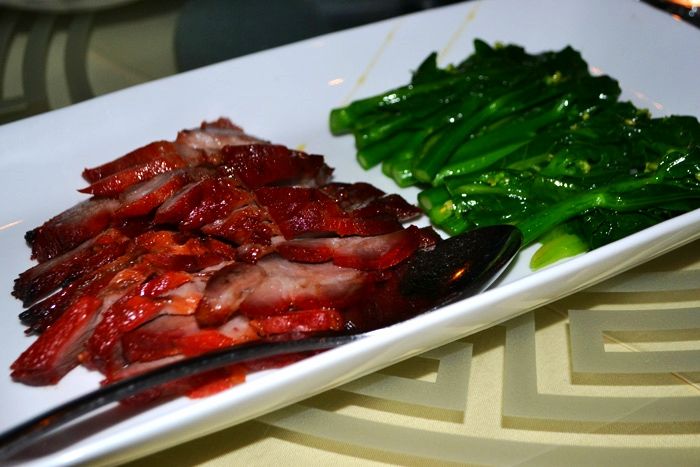 Char Siu Cantonese roast pork, again so well cooked and much tastier than traditional roast pork.
There was also honey pepper chicken, Singapore noodles and sweet and sour seabass which was my winner of the main courses. I had tucked in by then and forgotten to snap away!
Our final course of the evening was mango and lychee fritters served with vanilla ice cream. I was about ready to burst by this point by still managed to try everything and sipped the final champagne of the evening, the Laurent-Perrier Demi Sec. A great pudding champagne, much sweeter than the previous glasses but still delicious.
You can view the whole menu at Henry Wongs and I wouldn't hesitate to book for a special occasion. Its on the main road in Harborne and only a ten minute journey out of the city.
I think I should start pairing champagnes with every course of my dinners now, any excuse right?!