I've been meaning to visit Fiesta Del Asado since it opened but never quite managed to make a booking. (First tip make a booking, this place gets heaving…)
I was invited along to try out the menu which of course I said a very quick yes to. The Argentinian restaurant is based along the Hagley Road and has been created by the same people who own Lasan. (a must visit restaurant happily located on the Square where I live)
So onto the review, first things first the staff are seriously good, so knowledgeable, helpful and were really happy to give us suggestions.
The owners spent a lot of time in Argentina whilst bringing the restaurant together, learning about the different cuts and have passed on their knowledge to the staff.
The decor feels authentic and I was in love with the crockery all the dishes were served upon.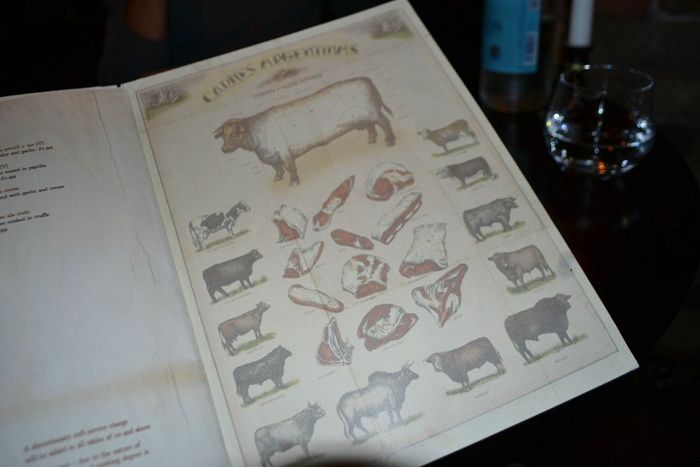 We placed our drinks orders; what else but a glass of Malbec each to bring on the Argentinian spirit and after a good time deliberating, decided upon our starters and main courses.
Before the starters arrived we were served bread with some balsamic and oil to nibble on. This may seem a strange thing to say but you must eat the bread, it was probably the nicest bread I have ever eaten anywhere. Baked in house, it has a glossy browned crust and the softest fluffiest centre, it was like eating a cloud.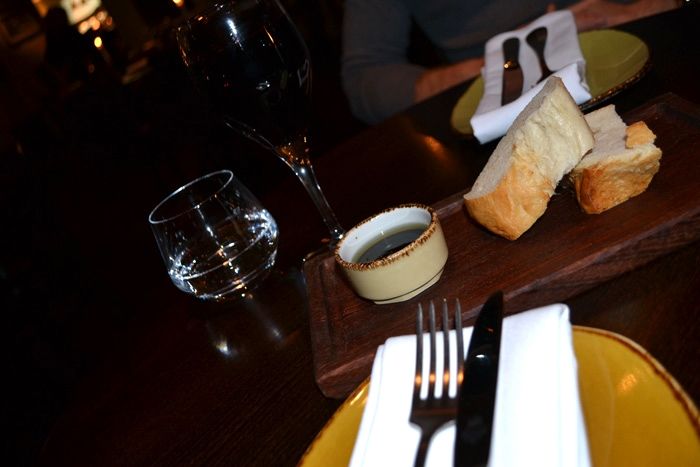 The bread lasted approximately one minute so we were pleased when our starters arrived. Matt opted for the calamari after the waitress recommended, soft (not chewy) fresh and served with a light dip. I chose a dish of oregano crusted deep fried provolone. It was good, really good, I don't really need to describe it, just take a look at the photos…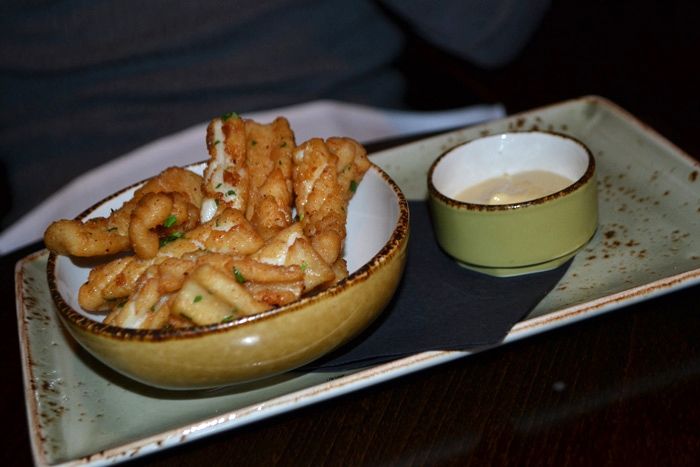 Matt and I decided to share one of the main courses for two so we would get a good selection of meats from the menu. Being an Argentinian restaurant, meat features most heavily on this menu and the cuts were all explained in detail to us.
Our sharing plate included sweet and pink lamb chops, three types of sausages including the famous morcilla, two cuts of steak and chicken wings. We ordered a couple of sides to break up the meat a little, some creamed spinach and paprika roasted potatoes.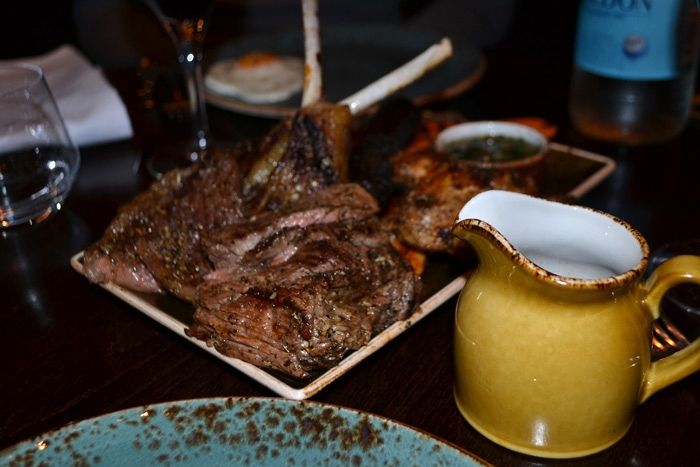 The meat cuts were chosen so well, Matt loved the flank whilst I really enjoyed the lamb, the chicken wings were quite special too. The meat was served with a Malbec reduction with meat juices and a fresh zesty salsa verde to cut through some of the heaviness.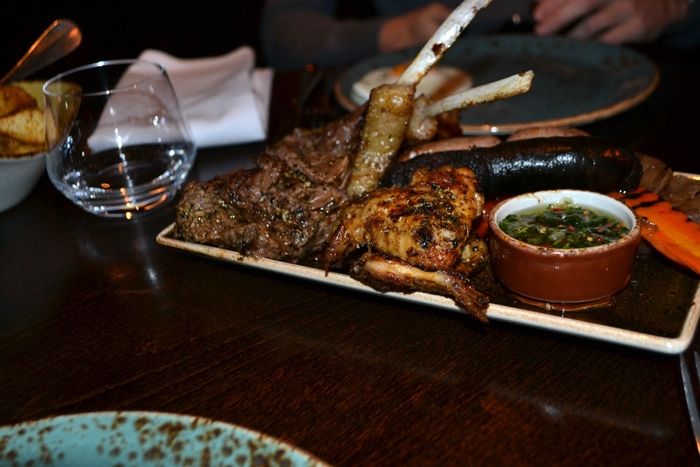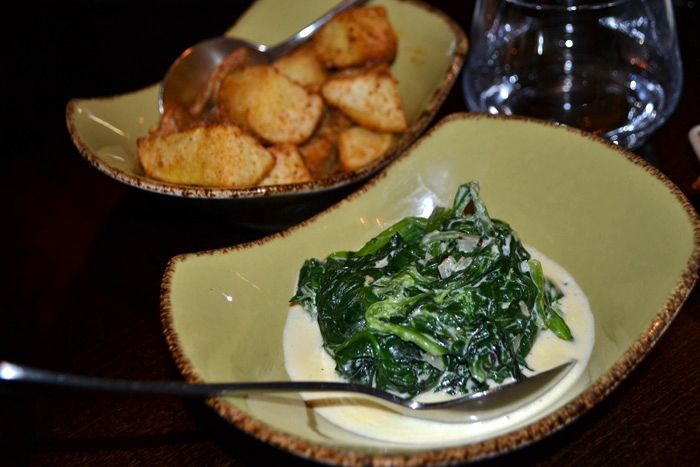 Somehow we did manage to finish all of that platter and I wouldn't hesitate to order it again, but I really want to try the lomo fillet, my favourite cut from when we travelled in Argentina a few years back.
As you can imagine I couldn't face a pudding after our feast but somehow the manager had talked me into ordering the panna cotta with berries and Matt went for a type of apple turnover (I can't remember the exact name) served with dulce de leche ice cream, purely for the dulce de leche (if it features on any menu, Matt will order it!)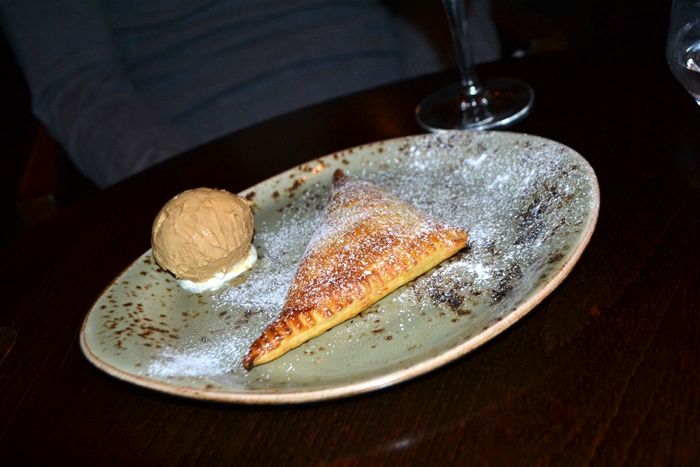 The apple turnover was ok, nothing very special but the ice cream was. I have never tried an ice cream that had such a sticky texture to it quite delicious and quite different. My panna cotta was rich with vanilla flecked throughout, the berries did cut through but I was defeated before finishing.
Now I have a new place to take visitors when they come to stay I shall be working my way through the rest of the menu – 5 out of 5 stars for me.