RMK is not a brand i've been familiar with so I was interested to see what products were offered and take up the invitation to have my make-up done - always great!
Being a Japanese brand I had high expectations of quality and from my experience they have some great stand-out products.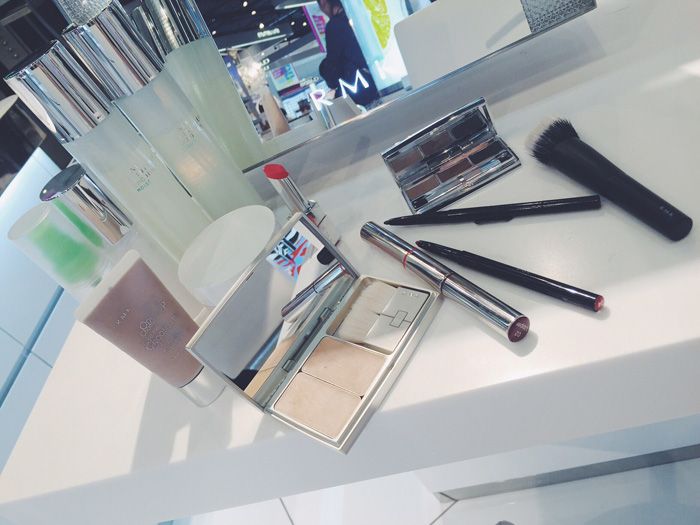 Top three products:
1) The new colour collection had just launched and one lipstick jumped out at me straight away - Irresistible Glow Lips in Cherry Red. It didn't disappoint, melted nicely upon application, masses of moisture and good colour pay off.
2) The Casual Solid Foundation hosted in sleek silver luxe packaging. You buy the silver packaging separately and then pick two base colour refills to add to your compact. Not a huge selection of colours but the fact you add two means you can really get a great match by blending together or use one for your base and one for contouring or highlighting. The formula was a little on the dry side for my crazy de-hyrated skin but actually the longer I wore it the better it looked. A few spritzes of the RMK herb mist (check these out they really are lovely and come in several scents) helped add a little dewiness to my face.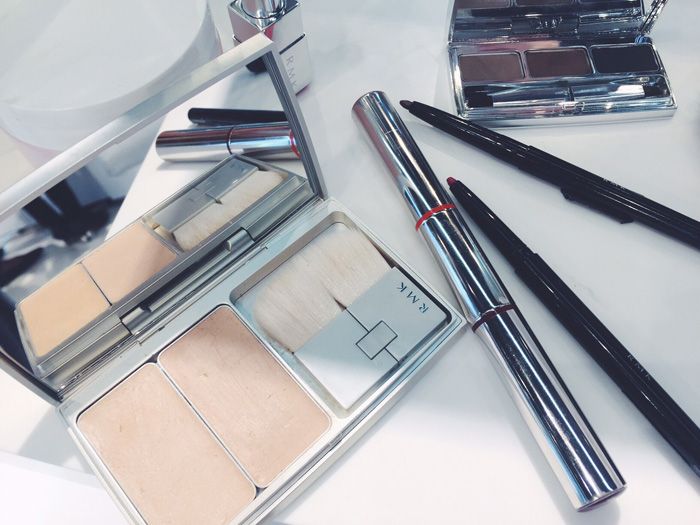 3) The Powder Eyebrow pallette was the third standout product for me, three colours again in a lovely silver compact, two shades of brown and one darker grey. Perfect for finding your custom eyebrow shade. Too many eyebrow products show as a warm tone on my brows so the dark grey really was perfect adding a cool ashy tone to my brows matching my natural colour.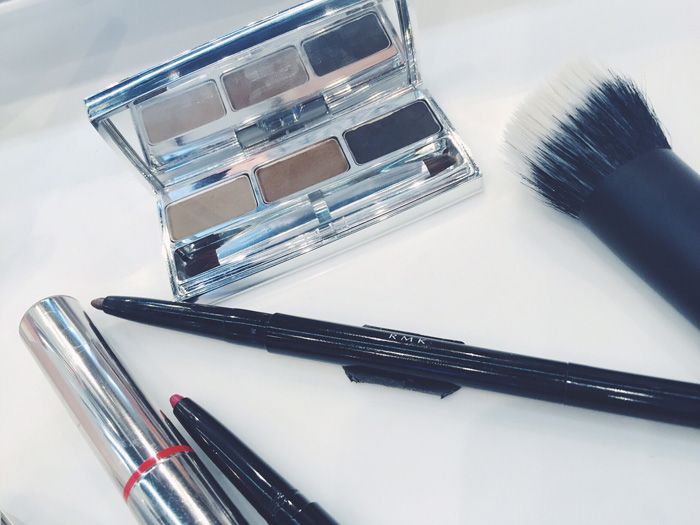 I also had a crazy mascara colour applied - it was orange! It didn't really show up in these photos but made my blue eyes really pop. It had serious staying power though and didn't shift all day - not a single flake, the tube comes with a double-headed wand, one colour and the other end black. Not a colour i'd choose to wear everyday but a fun one to try. They also offer a standard black for all those who prefer the more natural look!
As well as the make-up, I had a quick skin cleanse before all of the above was applied. I was really impressed by the quality of the skincare and is definitely one brand I was to investigate further with. I was given a generous sample of the in-famous Cleansing Balm and after trying this out whilst I was travelling recently can easily say this deserves all of the praise it has received. It smells heavenly too, think rose turkish delight!
I still have a sample of the Recovery Gel to try, a night time anti-roughness and hydration treatment which looks and smells incredible and I really can't wait to use this.
A photo of my final look and I must mention there is currently a few products on sale here, i'm so tempted by the Matte shiny duo eye pencil.